Best credit score apps
No matter what we want to do these days, you can rest assured that there is an app for that. From shopping online to mobile banking. From a course in meditation to booking your car in for a service. Mobile apps cover almost anything that you can think of, including your credit score.
Credit score apps bring instant access to everything you need to know about your credit score and credit report. With the information at your fingertips, there has never been a more convenient way to access your information. Now, we're not going to suggest you're going to want to whip your mobile from your pocket and start checking your credit score halfway through a dinner party but, there is no denying that credit score apps certainly make checking your information easier by far.
Knowing that you will now be sat poised, mobile at the ready, let's consider the best credit score apps available.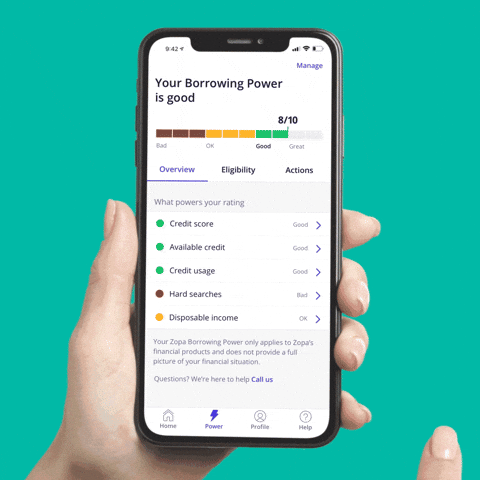 Best credit score app for Equifax credit rating
ClearScore
With ClearScore proudly boasting, 'Your credit score and report, for free, forever,' this is an app that can't be ignored. As you'd expect from any app worth its salt, it is available to download for both Apple and Android users.
This credit score app allows you to see your credit score whenever you log in and also allows you to access your credit report. Seeing your credit report means that you can see exactly what a lender would when it comes to any credit applications. Why is this a good thing? If you spot any issues, you have time to try and fix them before applying, giving you a greater chance of a successful application.
ClearScore is free to download, and to use because they make their money elsewhere. Alongside showing you your score and credit report, they will also show you loans and credit cards. But, not just any loans and credit cards! Ones that, based on your credit score, lenders are likely to approve you for. This means that you can apply with a greater degree of confidence, and ClearScore gets a commission payment if the lender approves. Everyone's a winner!
Another feature offered on this credit score app is dark web monitoring. With this, ClearScore will monitor your credit report for any signs of fraud or suggestions that passwords have been stolen. You will be alerted to any issues, and then you can take action to put things right.
With ClearScore obtaining their credit information from Equifax, you can be sure that what you're seeing is accurate and correct.
Best credit score app for TransUnion scores
Credit Karma
Another credit score app well worth taking a look at is brought to us by Credit Karma. Known as 'Noodle' in the not too distant past, they lead with their headline, 'Know your credit score, get ahead in life,' and tell us that it is 'All free, always'.
Credit Karma can be downloaded via the Apple App Store or from Google Play for Android users. With their information coming from TransUnion, Credit Karma state that they are the only company to bring you weekly credit reports.
Alongside access to your credit score and credit report, this credit score app also provides advice on how to improve your credit score as well as guidance on how to dispute any errors showing on your report.
Similar to ClearScore, Credit Karma will show offers tailored to you based on your credit score and credit report. A nice little touch to this is that Credit Karma will also give you alerts when there are any changes to your score or report. This is a great way of staying in control and spotting any issues early on.
Totally Money
Credit score app number 3 is totally awesome Totally Money. Like Credit Karma, the credit information held by Totally Money comes from the credit reference agency, TransUnion.
Again with a promise of being 'free forever' Totally Money state that 'We make your credit score work for you'. They do this by giving you access to your credit score and credit report, along with explanations as to how your financial past affects your credit score today. Knowing this can help you make informed choices to repair any damage.
Being available to both Apple and Android users, Totally Money will also bring offers to you in terms of credit cards and loans. With access to your information being free, in a similar vein to the other apps we've looked at, Totally Money earns a commission if you sign up for one of the offers that they present to you. The reassurance given is that you are only presented with the best offers for your personal circumstances and not those that lead to the biggest commissions. Applying for these recommended products means you have more chance of being accepted and less chance of rejections harming your credit score.
Best credit score app for Experian credit rating
Money Supermarket
With their invite to ' Nurture your credit score with Credit Monitor', Money Supermarket is a slightly different beast. A hybrid if you like, with its offerings going beyond that of offering you free access to your credit score and credit report.
Like the other credit score apps seen so far, Money Supermarket allows you to access your credit information. The information that they hold comes from TransUnion, and as well as sharing this with you, you will also receive regular personal tips to improve your credit score. With the app being available on both platforms, you will also get free alerts if any suspicious activity is spotted.
Money Supermarket will still bring your personalised offers for credit products, but they go beyond this. With them also offering their Car Monitor and Energy Monitor services, they aim to show you ways of saving money as well as looking after your credit score. With broadband and car insurance deals thrown into the mix, Money Supermarket has a diverse range of things on offer.
Experian
With Experian being one of the 3 credit reference agencies in the UK, (the other 2 being Equifax and TransUnion), it would make sense that they would offer their own credit score app.
With the Experian app, you have 2 choices: a free and a paid-for option.
The free account allows you to access your credit score but doesn't give you access to your full credit report. It does, however, present you with comparisons between loans and credit cards, letting you know which ones you are eligible for and have the greatest chance of applying successfully for. Alongside this, they also offer tips, videos, and articles to guide you through improving your credit score.
Experian's paid option is called CreditExpert. At £14.99 a month, you get all of the free features but also get access to your full credit report. With score influencers showing what has positively and negatively impacted your credit score, you are also given alerts to any changes that take place. Add to this an easy to view timeline, and it is easy to see a snapshot of your credit history.
With so many free options available, it may seem unthinkable that you'd want to pay £14.99 a month for this credit score app, but one advantage is that Experian is actually a credit reference agency and so you are getting the information straight from the horse's mouth.
Why do I need a credit score app?
You certainly don't need a credit score app, but you do need to be checking your credit score and credit report regularly. You can check your credit score as many times as you want safe in the knowledge that you won't lower it.
Knowledge, according to the saying, is power. Knowing what information the credit reference agencies hold on you allows you to influence this. Spotting a mistake, you can challenge it. Seeing your score going down, you can rectify it. Applying for a loan, you can increase your chance of acceptance. If you have no idea what your credit score is and what it says about you, you run the risk of being rejected for credit applications and causing further damage.
So no, you don't necessarily need a credit score app. You can easily access the same information via a laptop or desktop on the company websites if you prefer. The advantages of actually downloading a credit score app are that you have instant access to everything credit-related. You are also less likely to miss any important alerts as you'll receive that all familiar 'ping' to notify you of any changes or potential problems.
Wollit – the best app for credit building
If you join Wollit and take advantage of our income smoothing service, not only will you benefit from a regular monthly income, you'll also see your credit score improve. Every month that you are a member, the more credit history you are building up. We want you to see the effect that Wollit has on your credit score and for you to reap the rewards. So, when you download the Wollit app, why not download a credit score app too, so you have instant access to your credit score and can see that we are true to our word?